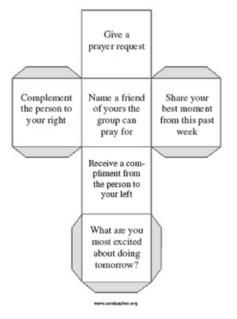 play the "dice game" to build community. You can make your own "community dice" by
printing the picture here
then doing a little folding and cutting. Of course, you make up your own things to put on each side.
Have each person roll the dice and then they must do what the dice tells them to.
This would also work great for a "prayer dice". Put six different ideas about prayer on the sides.
Another idea is to use the dice to do "group affirmations". The possibilities are only limited by your creativity!
One last tip: the thicker the paper, the better as it will give more weight to the dice.
click here for a blank copy